Where: South College Parkside Campus Auditorium, 400 Goody's Lane, Knoxville, TN 37922
When: Nov 21, 2019 at 1:30 - 3:00pm
Are you concerned about bringing bed bugs from your clients' infested homes to your car, office and home?
In this session, attendees will learn to recognize all the stages of the bed bug, their shed skins and fecal specking. Bed bug biology, bite response and inability to transmit human pathogens will be discussed. Bed bugs are managed through proper identification, education, inspections and monitoring, non-chemical (heat, cold, vacuuming and other mechanical removal such as lint rolling, and encasing mattresses and box springs) and chemical control and follow up evaluations. Attendees will understand how to implement these strategies to prevent bringing bed bugs home.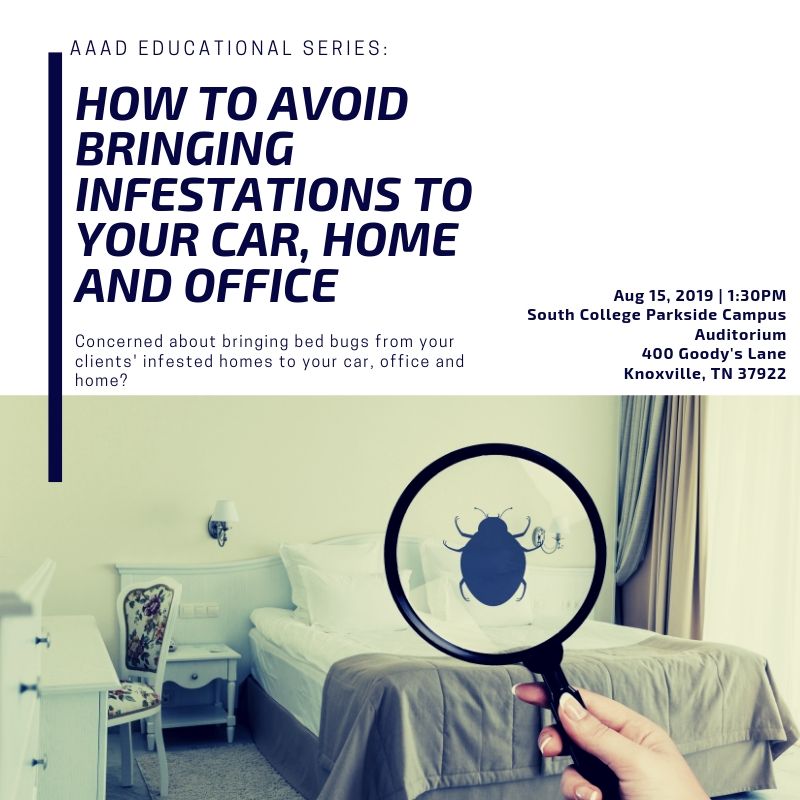 About the Speaker: Karen Vail has been diagnosing and working with bed bugs for a decade and a half. She has conducted research on early detection of bed bugs in low-income high rises for the elderly and disabled since 2013. In 2018, she gave 23 bed bug face-to-face or webinar presentations to more than 1524 housing managers, service providers, residents, public health professionals, entomologists, graduate students, camp personnel and pest management professionals to share their research results, to help assuage concerns about bed bugs and to inform them of their pest management role.
Or Contact (865) 691-2551, ext. 4818 or DLyvers@ethra.org