Volunteering with TN SHIP
Come join our team of State Certified Volunteer Counselors
Spring Training Dates: April 22nd and April 23rd 2020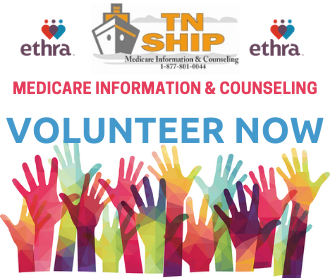 The State Health Insurance Assistance Program (SHIP) is a national program that helps the senior and disabled Medicare population. Tennessee SHIP needs volunteers like you for our East TN region: Anderson, Blount, Campbell, Claiborne, Cocke, Grainger, Hamblen, Jefferson, Knox, Loudon, Monroe, Morgan, Roane, Scott, Sevier, and Union counties.
Our required training gives you the confidence needed in your chosen volunteer level and allows you to become SHIP Certified!
Volunteer Levels:
Volunteer Counselor (Level 3 Certification): duties can include direct counseling on Medicare health and drug plan options / assistance with screening and applying for low income programs. Group Certification Trainings are held each Spring.
Public and Media (Level 2): duties can include presentations / staffing booths at health fairs / handing out flyers at sites, event, or groups / answering general questions. Trainings are year round.
Administrative / Media (level 1): administrative duties can include help with office work such as data entry and mailings / media duties can include maintaining newsletters and social media outlets. Trainings are year round.
MIPPA Level Volunteer : assisting clients by screening and applying for low income programs and helping with insurance plan enrollments. Trainings are year round.
We are partnered with the Senior Medicare Patrol (SMP), so you will also become knowledgeable on Medicare fraud and abuse.
Being a SHIP Volunteer allows you to help those in your community who may be overwhelmed, confused, or just unsure of their options and many do not know there is free and unbiased help out there for them.
Contact
Amanda Johnson
865-691-2551 ext 4302
ajohnson@ethra.org
Find out more about the program at the TN Commission on Aging & Disability!