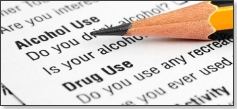 If you have been ordered by the courts, Department of Children Services, Probation, etc. to get an alcohol and drug assessment contact us to schedule a complete evaluation.
The evaluation will be a face to face interview with our Licensed Alcohol and Drug Abuse Counselor. We use an ASI program to obtain a person's history including the medical health, employment/education, alcohol and drug use, legal status, family, social, and mental health history. The DSM V will be used for the diagnosis and referrals will be made if appropriate.
The interview usually takes about one hour to complete. The cost for this service is $75.00. You may contact your local ETHRA office and ask one of our misdemeanor officers to add you to the A & D assessment schedule or you may contact Sherry Gwyn at 865-659-5182.