Options for Community Living
The Options for Community Living Program helps individuals with functional limitations stay in their own homes by providing several in-home services.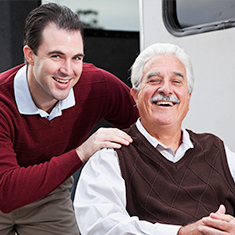 Eligibility Requirements
An individual needs at least 3 Activities of Daily Living/Intentional Activities of Daily Living they can't do for themselves.
These are things such as physically being unable to do housekeeping, shopping, bathing, walking without assistance and other activities. There is no income requirement except that if income is over the monthly income amount of the Federal Poverty Guidelines an individual will have to pay a cost share.
Services Provided
The services provided are Light Housekeeping, Assistance with Bathing, Home Delivered Meals, and Case Management.
How to Apply
To access Options For Community Living individuals or their representatives must call the Intake Line at 1-866-836-6678. The phone Intake Specialist will use an Intake Form to ask questions that will determine if the individual is eligible. If the individual's score is high enough and a slot is available, they will be contacted by the case management staff for an in-home visit. The case manager will do an assessment and set up services.
Information You'll Need for an Application:
Your Name
Date of Birth
Phone Number
Address
Marital status
Household Income (including spouse if applicable)
Health information, including: any conditions, hospitalizations within the last year, any falls taken in the last three months, and any physical limitations.
Please download a copy of the current intake form from our website (located below) and have that ready before you call. The more information you have available, the faster your application can be completed.
Contact
For more information, call the Area Agency on Aging and Disability at 1-866-836-6678.
Funding
State funds are made available through the Tennessee Commission on Aging and Disability.
Counties Served
Blount County, Claiborne County, Campbell County, Anderson County, Knox County, Morgan County, Cocke County, Grainger County, Hamblen County, Jefferson County, Loudon County, Monroe County, Roane County, Scott County, Sevier County, Union County
You May Also Be Interested In