Home Delivered Meals
Meals Delivered to Homebound, Frail and/or Isolated Individuals who are 60 years of age and older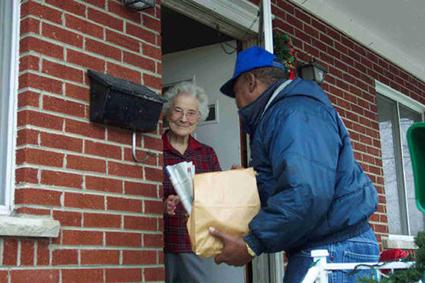 Home Delivered Meals: A nutritious meal is delivered to older adults (60+) who are confined to their homes and unable to prepare themselves a nutritious meal for various health reasons. A registered dietician plans the meal served. The meal pattern consists of: Meat/Meat alternate, Vegetables & Fruits ½ cup servings, Bread or Alternate, ½ pint Milk, Dessert, and Margarine. The meal meets 1/3 of the Recommended Dietary Allowance for their age group.Meals are packaged to maintain appropriate temperatures during delivery. The nutritious meal enables the participants to remain independent and stay in their own homes.
Top Four Goals:
Congregate and Home Delivered: To improve the quality of health through proper nutrition.

Home Delivered: To provide seniors with a nutritious meal in their home that will enable them to remain independent.

Home Delivered: To provide social interaction daily with persons delivering meals and to provide a daily check on their health and welfare. And seek emergency assistance if necessary.

Congregate Meal: To provide socialization in a congregate setting.
ETHRA. contracts with Knoxville-Knox County CAC, Douglas Cherokee Economic Authority, Mid-East CAC and Blount County CAC to serve the additional region.
Program Quick Stats
19
Home Delivered Meal Routes
Funding
Federal funds are made available through the Tennessee Commission on Aging and Disabilities, State of Tennessee, United States Department of Agriculture, Participant Contributions, and In-Kind.
Counties Served
Claiborne County, Campbell County, Anderson County, Morgan County, Scott County, Union County
You May Also Be Interested In